Commencement exercises have a long history in North America. In Virginia, the College of William and Mary held its first graduation ceremony in 1700. There are several items in the VHS collections related to commencement exercises. This "Take a Closer Look" feature looks at a few of them.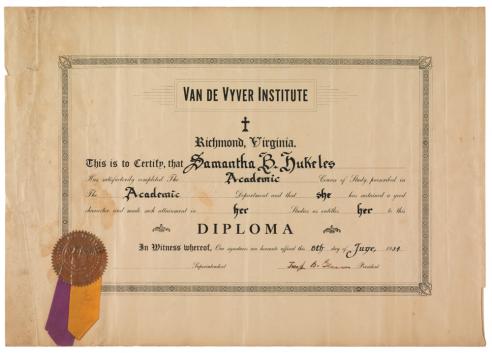 Samantha Hukeless undoubtedly was excited to graduate from Van de Vyver Institute, in Richmond, in June of 1934. The predominantly African American Van De Vyver Institute was originally begun as a school attached to St. Joseph's Catholic Church in Jackson Ward; the school offered both academic and vocational courses. Founded in 1885, St. Joseph's was the first Catholic institution for African Americans in the South. The school was begun a few years later; it was renamed the Van De Vyver Institute in 1910, in honor of Augustine Van de Vyver (1844–1911), who served as the bishop of the Diocese of Richmond from 1889 to 1911. The school operated under that name until 1969, when it was closed. In 1934 it put on a play as part of its commencement activities. Samantha Hukeless played "Henrietta Darby, the Widow" in the three-act comedy And Home Came Ted, by Walter Ben Hare. Hukeless, later married to James Roots, worked for many years as a clerical assistant and teacher's aide at several Richmond middle and high schools.
View other items related to commencement exercises in the slide show below.