Silver in Virginia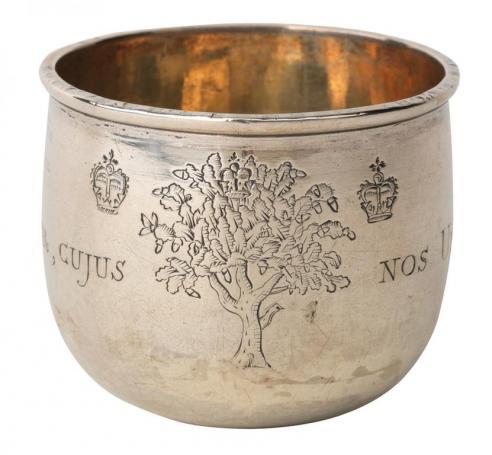 Early English colonists arrived in Virginia with a love of all things silver. A rich display of silver expressed an owner's wealth and power as well as their taste and refinement.
Many of the early residents of Virginia ordered their finest silver from London. After the American Revolution, population growth, a rising tide of prosperity, and the genteel aspirations of an expanding middle class greatly expanded the market for silver. By the first half of the eighteenth century, a growing number of colonists were purchasing quality pieces from skilled silversmiths in Virginia. By the mid-nineteenth century, more than 1,500 silversmiths had set up shop in the commonwealth, some working nearly alone, others as part of large establishments employing many journeymen and apprentices.
Silver is shaped by either pouring molten metal into molds or hammering it into a final shape. After 1800, however, the availability of sheet silver and pre-made parts simplified the process of making containers. By 1820, local silversmiths increasingly became merchants of finished goods crafted in the larger eastern cities. After 1820, silversmiths dealt in finished goods manufactured in large eastern cities, and after 1850, many silversmith shops came to be called jewelry stores.
This exhibition, organized by location, includes not only silver produced in major urban centers, such as Alexandria, Norfolk, and Richmond, but also works crafted in small towns like Leesburg and Petersburg, and it illustrates the variety of craftsmen, styles, and consumers of silver in Virginia during the eighteenth and nineteenth century.
---
Many of the items on display in this gallery were part of a gift from James H. Willcox, Jr.