The VMHC was excited to be a host location in November 2020 for the art installation,  PRAISE YOUR MOTHER / AMA A LA MAMÁ by Mariana Parisca & Sandy Williams IV, as part of InLight 2020: Safety and Accountability.
Project Statement from the Artists:
"Let these words become a meditation as they resonate within your body. PRAISE YOUR MOTHER / AMA A LA MAMÁ. Please say it aloud in both English and in Spanish, and let it affect you. These phrases remind us to honor our mothers, the ancestral mothers (her mothers), the Earth's mothers (God), the mother within you, and to celebrate all of the feminine forces that birth and nurture us. In this moment of massive patriarchal collapse and crisis, to praise your mother is to remember the beautiful potential of creation, a beauty that preexists us, as we heal into our futures." // "Deja que estas palabras se convierten en meditación y que resuenen en tu cuerpo. PRAISE YOUR MOTHER / AMA A LA MAMÁ. Dilo en voz alta en Ingles y en Español mientras te afectan. Estas frases nos recuerdan a dar honrar a nuestras mamá, la madre ancestral (y sus madres), la madre de la tierra (La Pachamama), la madre dentro de ti, y a celebrar todas las fuerzas femeninas que nos dan vida y nos crían. En este momento de crisis y colapso patriarcal masivo, apreciar y amar a la mamá es recordar la belleza de la potencia creadora, la belleza que nos preexiste, mientras nos curamos asía nuestros futuros."
We made these signs to celebrate our mothers, our women, and the power of our feminine energies at large. We are excited to contextualize this work at the Virginia Museum of History & Culture, in recognition of the tremendous and often overlooked role women have played in creating the prosperities of both our pasts and our futures. Allowing the light of these words to occupy the facade of such a prominent neoclassical building might also serve as a beacon, a celebration of the mother, the invisible backbone of our country that has had to support the patriarchal paradigms of this nation for too long without gratitude."
About the Artists: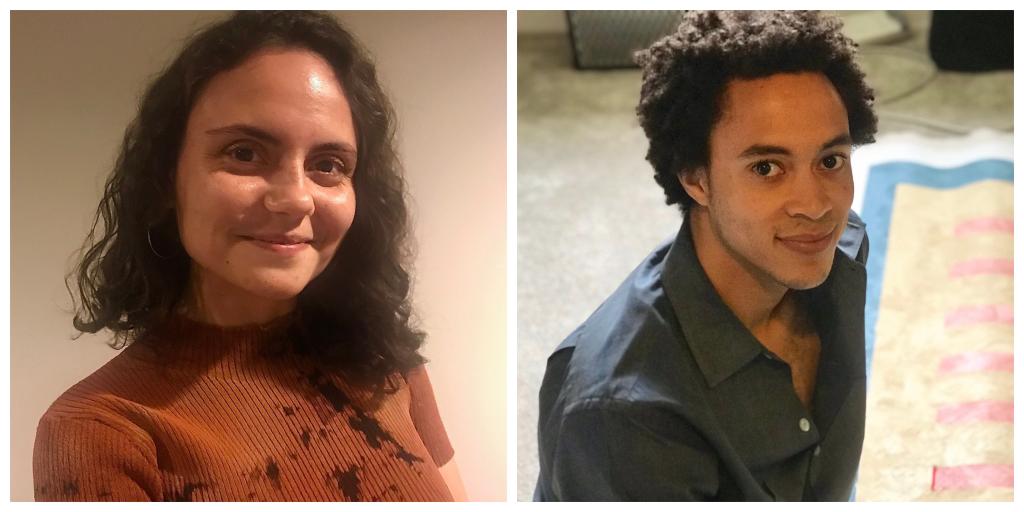 Mariana Parisca and Sandy Williams IV are both interdisciplinary artists, filmmakers, and recent graduates of Virginia Commonwealth University's Sculpture + Extended Media MFA program. Their first collaboration was with Cherry Gallery. Parisca has received the Eliot Scholarship and the Paul F. Miller Scholarship. Her work has been shown at the Virginia MOCA, the CAM in St. Louis, Bruno David Gallery, Sheldon Gallery, Des Lee Gallery, and New Works Gallery in Chicago, IL. Williams has shown with the Pensacola Museum of Art, the Virginia MOCA, 1708 Gallery, Reynolds Gallery, The ICA at VCU, Second Street Gallery in Charlottesville, VA, and Socrates Sculpture Park. // Mariana Parisca y Sandy Williams IV son artistas interdisciplinarios, cineasta, y graduados recientes de el programa de maestría de escultura y medias extendidas de Virginia Commonwealth University. Su primera colaboración fue en Cherry Gallery. Parisca ha recibido becas de Eliot y Paul F. Miller. Sus obras han sido mostradas en el Virginia MOCA, el CAM en St. Louis, Bruno David Gallery, Sheldon Gallery, Des Lee Gallery, y New Works Gallery en Chicago, IL. Williams a mostrado sus obras con The Pensacola Museum of Art, el Virginia MOCA, 1708 Gallery, el Reynolds Gallery, The ICA en VCU, Second Street Gallery en Charlottesville, VA, y en Socrates Sculpture Park.
About InLight:
Led by 1708 Gallery, InLight is an annual public exhibition of contemporary light-based artworks—multimedia and interactive projects, video, projection, sculpture, installation, performance, community-based work, and digital and virtual projects—and has historically taken place in a singular location in Richmond, Virginia, each November. Past sites include Chimborazo Park; the streets, facades and alleyways of the downtown Arts District; and the sculpture garden and grounds of the VMFA.
In 2020, the InLight festival celebrated its 13th year at sites across Richmond. In response to COVID-19, InLight's multi-site and outdoor platform allowed for both socially distanced in-person viewing and online viewing through a series of streaming and virtual projects. Inspired by ongoing community dialogues surrounding the unjust and inequitable treatment of Black lives and by Richmond's coming together in support and aid during these crises, the 2020 event focused on light-based artworks that responded to and elaborated on the paired themes of Safety and Accountability. Artworks were located near Virginia Union University's campus, in the Church Hill neighborhood, throughout the Downtown Arts District, at the T. Tyler Potterfield Bridge, along the Richmond Slave Trail, in the Randolph neighborhood, and more. Learn more.