HistoryConnects FAQ
WHAT PROGRAMS DO YOU OFFER? 
We offer a wide catalog of programming for both K-12 Classrooms and Lifelong Learners.  

In addition to these catalogs, we also offer custom programs to fit the needs of your group. Please contact Manager of Digital Learning, Hailey Fenner, at hfenner@VirginiaHistory.org or 804.342.9689 to learn more. 
HOW MUCH DO HISTORYCONNECTS PROGRAMS COST? 
HistoryConnects K-12 Programs are $75 each for Virginia Schools and $125 for out-of-state schools. Programs can be delivered to single classrooms or multiple classrooms within the school. There is no additional charge for multiple classrooms to participate.

Thanks to the generous support of the Weinstein Properties, HistoryConnects programs for Title I Schools in Virginia are free during the 2023 - 2024 school year. Use the code "VATITLEI" at booking!

Thanks to the generous support of The Charles Fund, Inc. classrooms in Charlottesville and Albemarle are eligible for free HistoryConnects programming. The generous support of Appalachian Power Company provides free programming for classrooms in Amherst, Bedford, Bland, Botetourt, Buchanan, Campbell, Carroll, Craig, Dickenson, Floyd, Franklin, Galax, Giles, Grayson, Henry, Lynchburg, Martinsville, Montgomery, Nelson, Patrick, Pulaski, Radford, Roanoke, Russell, Scott, Smyth, Tazewell, Washington, Wise, and Wythe counties.

We offer discounted rates on bundle programming student groups. The Primary Source of the Month Bundle  is 8 Programs for $400 or 4 Programs for $200. 

Each school year, we offer a selection of  free featured HistoryConnects programs. In addition to our catalog of paid distance learning programming and featured programs, we also offer two free 40-minute programs and you can view a schedule of free student webinars on our events calendar.   

HistoryConnects Lifelong Learning Programs are $125 for a single site connection. Programs can be delivered to single site or multiple sites within a community at once. There is a $75 fee for each additional site connecting during a single program. 

Participants are sent an invoice at the time of booking and payment is not due until the program is completed. We understand that there are several external factors that can impact a program centered on technology. If a program connection is unable to be made due to factors that are beyond human control (i.e. snow days, power or network failures, etc.), we will work with you to reschedule your program at no additional charge.  
HOW DO I BOOK A PROGRAM? 
HOW WILL WE CONNECT? 
Participants will connect with VMHC via Zoom, an online meeting application. It is available for free download at https://zoom.us/download. Before each program, participants are emailed a link to join the VMHC Zoom room. 

We can also connect via Skype, Google Meet, Blackboard Collaborate Ultra, and Teams. We understand connection methods vary from school to school, so we will do our best to accommodate any connection method needed. We are happy to join your class using links your provide or we can originate those links for you.  We can do programs with students who are fully virtual, hybrid classes, or in-person classes.

All participants are encouraged to book a test call before their program to ensure a smooth connection. 
WHAT EQUIPMENT WILL I NEED? 
An internet-connected computer or web-enabled device connected to a projector, monitor, or Smartboard. 

NOTE: Connectivity is enhanced when the fewest number of devices are connected to the Wi-Fi. If possible, please use a wired ethernet connection. 

An external or built-in webcam positioned to see as many students as possible. 

A built-in microphone or external USB noise-cancelling conference microphone. 

Speakers loud enough for entire room to hear.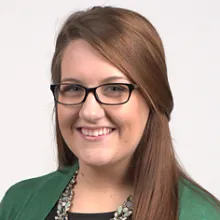 Hailey Fenner, Manager of Digital Learning
Are you interested in learning more about our interactive videoconferencing HistoryConnects programs? Please contact Hailey Fenner, Manager of Digital Learning, at hfenner@VirginiaHistory.org or 804.342.9689.