Pocahontas and the Powhatan Nation
Pocahontas and the Powhatan Nation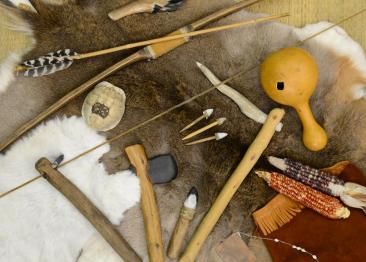 The students' attention is captured right away as the presenter unpacks replicas of artifacts used by the Powhatan Indians nearly 400 years ago. It is nearly impossible to keep students in their seats when they see the bow and arrow, stone tools, animal skins, and the many other items brought into the classroom.
Students are encouraged to identify the various natural resources used by Native American men, women, and children to make their tools and clothing. They will also engage in discussion about Pocahontas and the myths and facts associated with her. The students will experience a thrilling moment when they view an image of what Pocahontas actually looked like, as compared to what they've seen in movies.
This is a highly interactive program and is wonderful for all ages.
Suggested group size is thirty students.
The program lasts between 45 and 60 minutes.
Would you like to request an outreach program? Please contact Hailey Fenner, Manager of Digital Learning, at hfenner@VirginiaHistory.org or 804.342.9689.