Time Period
1861 to 1876
1877 to 1924
1925 to Today
Topics
Art & Architecture
Black History
Civil Rights
Civil War
Domestic Life
Education
Politics & Government
Women's History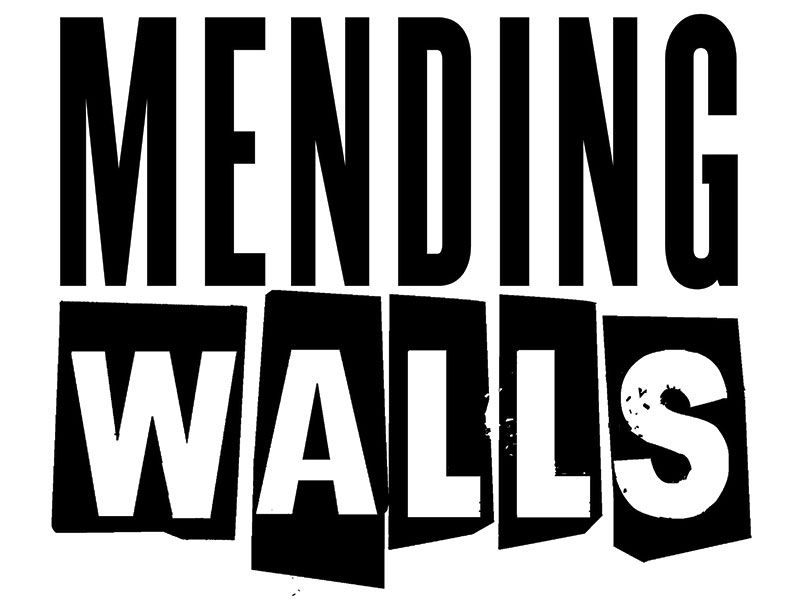 A Special Pop-Up Exhibition on display from July 1-September 7, 2020
This pop-up exhibition and community collaboration featured selections from the past VMHC exhibition, Fresh Paint: Murals Inspired By The Story of Virginia, with new reflections from the artists. Also included was a new hub for the Mending Walls RVA Project led by artist Hamilton Glass.
One of the most visible signs of protests and unrest was the graffiti found on monuments, plywood-covered windows, and other public and private property. This inspired Richmond mural artist Hamilton Glass to start the Mending Walls RVA project – assembling a diverse group of artists to create public artwork as a tool to promote empathy and to connect us at a time when it is most needed. History has the same power.
This exhibition featured paintings by artists participating in Mending Walls. Inspired by their motto, "We Need to Talk…," this artwork, combined with the stories of our past told throughout this museum, offered an opportunity to begin understanding how we arrived at this moment and start conversations about our future.
Artists included in this exhibition include: 
Jowarnise Caston (@jowarnise)

Drawing inspiration from African textile design, contemporary fashions, and urban culture, Caston explores the human condition related to race, social class, and culture through art. Best known for her naturalistic portraits of women in eloquent poses, she often focuses on the female African American experience. Her work has been exhibited at the Black History Museum and Cultural Center of Virginia, the Meredith Gallery (Virginia State University), and at the Medical College of Virginia.
Nico Cathcart (@nicocathcart)

A painter and muralist from Toronto, Ontario currently living in Richmond, Cathcart strives to discuss Intersectional Feminism and Conservation in her highly colorful works that often feature local flora and fauna, as well as the female form. Cathcart is a veteran of many Richmond street art festivals and her work appears in cities across the Unites States and has been shown in many galleries and museums including the Virginia Museum of History & Culture, MASS MOCA, and La Bodega Gallery (San Diego). 
Hamilton Glass (@hamglass)

Despite working in the architecture field for seven years, his passion for public art pushed Glass to start a career as an artist. His work is usually distinguished by the use of architectural elements with bright vivid colors and sharp lines. 
Glass's work focuses around using public art to build up communities and create spaces in which the community members feel they have a stake in their surroundings. He believes in the power of art, which can hold communities together, and increase equity around access to the arts.
Ian Hess (@ian.c.hess)

In his work, Hess explores the beauty of brokenness expressed through the shattered, graceful, and failed myths of yesterday. Applying the Japanese philosophies of Wabi Sabi—acceptance of transience and imperfection—and Kintsugi which treats breakage as beauty—he reinvents aspects of these categories into forms adorned by the textures and expressions of our time. As the Creative Director of Endeavor Studios—a 5-year running Studio Art Gallery run by artists for artists—Hess seeks to unite a broader community within Richmond.
Austin Miles (@auz_can)

Originally from Durham, North Carolina, Miles grew up inspired by Ernie Barnes's distorted figures and the stories his paintings told about African American culture. Her work has been shown in Richmond; Atlanta; Washington, D.C., and Cusco, Peru. Miles was the recipient of the Amendment Art and Literary Journal Art Award for her painting Enough. Introduced to mural painting in 2017, she realized the positive impact that murals can provide for a community while collaborating on Richmond's first mural created by and specifically for black girls.
Noah Scalin (@noahscalin)

Scalin is the creator of the Webby Award—winning project Skull-A-Day and the collaborative science fiction universe and performance art project League of Space Pirates. He was the inaugural artist-in-residence at the Virginia Commonwealth University School of Business, and his fine art has been exhibited internationally with installations in Times Square and the Mutter Museum (Philadelphia). Scalin's work was recently featured in an Old Navy television commercial. He is the author of six books, and a sought-after public speaker on creativity.
Learn more about the exhibition in this video: