Collections in the Classroom
Collections in the Classroom
These thematic resource kits are designed to help students analyze and interpret primary source material from our collections. They contain context, guiding questions, and digitized primary source material to provide an avenue for integrating museum collections into the classroom. The majority of the kits are designed for grades 4 and above, though individual sources, objects and themes within the packets are scaleable for younger grades. 
---
Determined: The 400 Struggle for Black Equality (recommended for grades 4 and above)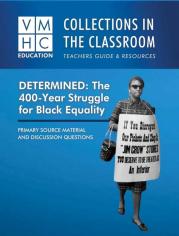 The exhibition Determined: The 400-Year Struggle for Black Equality examined the long history of black Americans as they have fought for freedom, equal justice, and access to opportunities. This packet will explore the black experience in Virginia from 1619 to the present day, the pivotal role black Americans have played in shaping America's national identity and culture, and some key events that have defined the meaning of American democracy, equality, and justice.
---
Agents of Change: Female Activism in Virginia from Women's Suffrage to Today (recommended for grades 4 and above)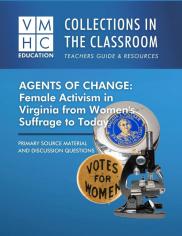 The passage of the Nineteenth Amendment in 1920 radically re-defined the meaning of American democracy by banning gender-based restrictions on voting and heralded a new age of female participation in American civic life. By highlighting the efforts and impact of a selection of female changemakers, Agents of Change, seeks to focus on women bringing about positive change in their communities, the Commonwealth, and the nation.  This packet will help you and your students understand the broader impact of women's activism in the 20th century.
---
Hat Tip: [Ad]dressing the Past through Millinery (recommended for grades 4 and above)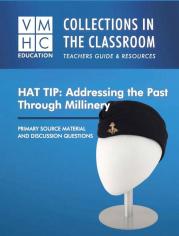 In recognition of the women's suffrage centennial, Hat Tip analyzes over a century of women's fashion. More specifically, this packet examines hats and headwear to better understand women's changing roles in Virginian and American society. From business owners to college students, Hat Tip uses primary sources such as photographs and objects to [ad]dress the past. 
Teaching with Photographs includes images from the VMHC collection that can be used to address themes in post–1865 Virginia and American history. These images address such historical themes as education, industrialization, urbanization, transportation, the changing roles of women, the development of Jim Crow, and the civil rights movement.
*Downloadable PDF coming soon.
Linking to our Past is designed to help students analyze and explore specific items related to African American history from the VMHC collections. The items letters, diaries, broadsides, government documents, telegrams, paintings, prints, museum objects, and paper ephemera. Students will explore themes of identity, freedom, education, community, resistance, justice, and triumph. 
*Downloadable PDF coming soon.