Topics
Black History
Civil War
Military History
When the war began, many black Americans—North and South—volunteered to serve as soldiers. United by a belief in black inferiority and fearful of racial strife, whites rejected the idea of arming black men.
Black enlistment in United States armies began in July 1862; ultimately 200,000 black men served. The vast majority were formerly enslaved men who sought to strike at slavery and improve their position in society.
A few southern soldiers and civilians suggested as early as January 1864 that the Confederacy enlist enslaved men as soldiers, but most southerners disagreed. One Confederate politician noted that, "if slaves will make good soldiers [then] our whole theory of slavery is wrong." Desperate to avert defeat, the Confederacy authorized the enlistment of slaves on March 13, 1865, too late to affect the outcome of the war.
Death with Dignity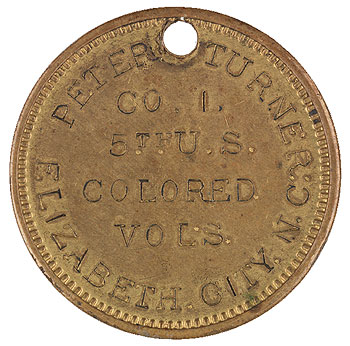 Civil War armies did not issue "dog tags" or other official forms of identification. Instead, a soldier could purchase an identification disc engraved with his name from the regimental sutler. Identification could prevent burial in an unmarked grave, a blessing cherished by the soldier and his family.
Twenty-two-year-old Peter Turner fell wounded on September 29, 1864, at New Market Heights on the outskirts of Richmond. In the battle there, troops of the 10th and 18th Corps, including fourteen regiments of United States Colored Troops, attacked the capital's eastern outer defenses. Seasoned Confederates behind fortified positions poured well-aimed volleys into the ranks of the black soldiers as they advanced. Fourteen of them earned the nation's highest military accolade, the Medal of Honor, for their actions there. During the Civil War, 1,520 soldiers and sailors earned the Medal of Honor—twenty-three were black Americans.
"Acts of Individual Bravery"
The Union Army of the James presented a medal inscribed with the Latin phrase meaning "Freedom will be theirs by the sword" to black soldiers who displayed gallantry during the 1864 Richmond-Petersburg Campaign. The medal was commissioned by U.S. general Benjamin F. Butler and remains the only one in American history designed specifically for black soldiers. After Butler's removal from command, black troops were forbidden to display these "unofficial" medals on their uniforms.
"With the Butt of a Musket"
This rifled musket was recovered from the site of "The Crater." The force that caused its damage is a mystery. One United States soldier noted that "many a dusky warrior had his brains knocked out with the butt of a musket, or was run thru with a bayonet while vainly imploring for mercy" from the Confederates.