The small United States Army could be enlarged quickly only by appealing to the states to activate local militia troops. By law the president could compel these men to serve for only ninety days. In April 1861 many on both sides—convinced that their opponents wouldn't fight or that they would retreat at the first shot—believed that three months of soldiering would be long enough.
On July 21, 1861, after a hard-fought battle at Manassas (Bull Run), U.S. forces fled the field. The next day the U.S. Congress extended the term of enlistment from three months to three years, and it enlarged the army from 75,000 to 500,000 men. The only thing decided at Manassas was that the war would continue.
Making Martyrs
Among the first United States troops to cross into Virginia were the men of the 11th New York Infantry and their twenty-four-year-old commander, Elmer Ellsworth. Nicknamed the "Fire Zouaves," the regiment consisted of New York City firemen-turned-soldiers. (The "Zouaves" took their name and colorful uniform from a French light infantry regiment that served in North Africa beginning in 1831.)
Marching through Alexandria on May 24, the day after Virginia ratified secession, the New Yorkers couldn't ignore the twenty-four-foot-long Confederate flag defiantly flying atop the Marshall House hotel. Ellsworth and his comrades rushed in and cut down the banner. Descending the staircase, they met hotel proprietor James W. Jackson who shot and killed Ellsworth. A U.S. soldier immediately shot and killed Jackson.
Ellsworth became the North's first martyr, depicted in memorial photographs and in such items as this commemorative pitcher labeling James Jackson "The Traitor." Southerners found a martyr in Jackson, who was killed while defending his property against an invading foe.
First Blood at Manassas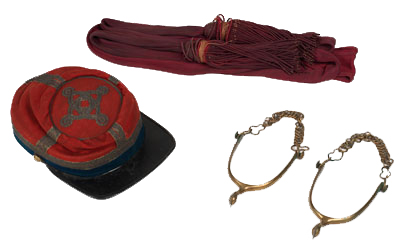 Unwilling to miss what he thought might be the only battle of the war, thirty-two-year-old Lt. Col. Noah L. Farnham left his sick-bed, donned his uniform, and led the 11th New York "Fire Zouaves" at Manassas, the regiment's first engagement with the Confederates. The firemen charged forward but were driven back. Farnham was briefly knocked unconscious when a musket ball struck his head. When Confederate reinforcements turned the tide of battle, the New Yorkers joined the Union retreat to Washington.
With more than 60,000 troops engaged, the battle was the largest in North American history to that date. Among the unanticipated 4,900 casualties were 175 New York firemen. Farnham died from his wounds in a Washington hospital three weeks later.