Time Period
1877 to 1924
1925 to Today
Topics
Decorative Arts
Fashion & Textiles
Politics & Government
Women's History
Introduction to the Weddells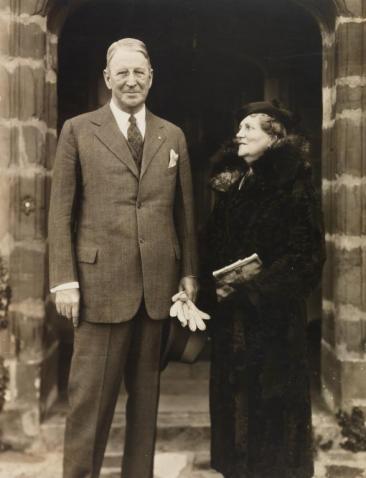 Alexander Weddell and Virginia Chase Steedman first met in Calcutta, India, in 1923 where Mr. Weddell was serving as U.S. consul-general. Alexander was a bachelor in his forties from Richmond, Virginia, and Virginia was a wealthy widow from St. Louis, when they were introduced by friends. Mr. Weddell accompanied Virginia Steedman and her companions back to the United States by cruise ship. Virginia's letters from the period first are addressed to "Mr. Weddell," but soon moved to the more personal "Alex." Four months later, on May 31, 1923, they were married at the Cathedral of St. John the Divine in New York City. The couple combined their passions and resources to build Virginia House in Richmond.
Alexander Weddell
Alexander Wilbourne Weddell was born in the rectory of St. John's Church, in Richmond, on April 13, 1876, the son of the Reverend Alexander W. Weddell and Penelope Wright Weddell. Young Weddell was only seven years old when his father died, leaving his widow to face life in genteel poverty with four children. Alexander was tutored at home until he entered Richmond public schools at age eleven. As a teenager he spent his summers working sixty-hour weeks for the meager salary of $1.50 at a local grocery store to help support the family. Later through family friends young Weddell made a brief foray into the banking and business world, but considering himself unfit for these jobs, he sought and obtained a post with the Library of Congress. He worked in the Copyright Office while attending law classes at George Washington University.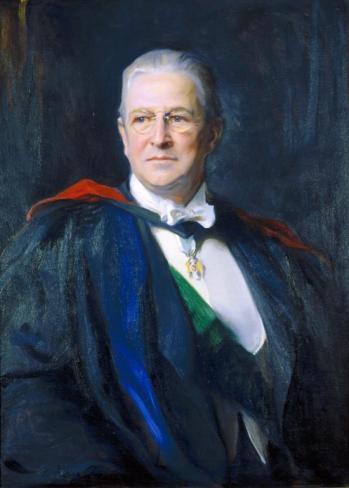 Then, in 1907, Alexander Weddell secured an appointment as secretary to the newly appointed minister to Denmark - and he found his profession in the diplomatic world. His first assignment upon completing the Foreign Service exam in 1909 was Zanzibar. Stints in Catania, Sicily, Athens, Beirut, Cairo, and Calcutta followed as Weddell forged his diplomatic career.
By 1923, the forty-seven-year-old, tall, courtly Virginian was convinced that he would probably remain a bachelor for the rest of his life. In February of that year, however, Weddell met some old Virginia friends for afternoon tea in a fashionable Calcutta hotel. They introduced him to a vivacious widow from St. Louis - and a courtship quickly developed. Weddell arranged to take time away from work, and met Mrs. Steedman's party in Rangoon, Burma. The romance continued on the trip back to the United States. The couple married in St. Ambrose Chapel at the Cathedral of St. John the Divine, in New York City, four months after first meeting in May of 1923. 
The couple returned to Calcutta late in 1923 where they remained until Weddell was transferred to Mexico City the following year. Upon arrival in Mexico, the couple found a nation in the midst of revolution. Years of U.S. intervention into Latin American affairs and resentment caused by the vast profits American corporations extracted from their extensive Mexican holdings, fueled strong "anti-Yankee" sentiments. Meanwhile, the United States demanded restitution for the deaths of several American citizens during Pancho Villa's earlier border raids into Arizona and New Mexico.
By 1928, Weddell had become deeply concerned about his wife's health, yearned to return to Virginia, and had been disappointed not to recieve a requested assignment to Montreal by the Republican administration then in charge of the State Department. Weddell, a southern Democrat, resigned from the diplomatic corps out of frustration. However, his retirement proved to be short-lived when, in 1933, Franklin D. Roosevelt assumed the presidency and assigned Weddell as the ambassador to Argentina. Alexander and Virginia spent "five interesting and happy years in that wonderful country," after which Roosevelt offered Weddell the very difficult post of ambassador to Francisco Franco's Spain in 1939. By 1942, advancing age, health problems, and the cumulative frustration of working with an unresponsive State Department and observing Nazi influence in the Madrid government, convinced Ambassador Weddell to retire permanently from foreign service. 
By 1943 the couple had returned to Richmond, where he was elected president of the Virginia Historical Society, and she continued her charity work. On January 1, 1948, the Weddells, accompanied by their English maid Violet Andrews, were traveling to Arizona for the winter. During a blinding snow storm their Pullman car was rammed by another train, and all three were killed instantly.
Virginia Weddell
Virginia Atkinson Chase was born December 20, 1874, to Edwin E. Chase and Virginia Atkinson Chase. While she was growing up in Edina, Missouri, Virginia's seemingly secure, affluent life often was undermined by her father's severe financial reverses. As an adult she rarely spoke of her childhood and has left almost no record of her remembrances. In keeping with upper-middle class practices, her parents sent Virginia to Miss Brown's School for Girls in New York City. After graduating in 1894, she departed for Europe for a "grand tour," visiting museums and other sites associated with the foundations of Western culture. In 1900, Virginia married James Harrison Steedman, the son of a prominent St. Louis family. 
Steedman was called into active military service during World War I. His health declined, and only two years after his return home he died. The James Harrison Steedman Traveling Fellowship at the Washington University School of Architecture was established by his widow and his brother George Fox Steedman as a memorial in 1924.
By the time she turned 45, Virginia Steedman was a childless, wealthy widow. Accompanied by her friends, Mr. and Mrs. William Cocke, she began an around-the-world journey in 1922 that would take her to Paris, Cairo, and Istanbul. When the party arrived in Calcutta, the Cockes arranged to have tea with their old friend, Alexander W. Weddell, who was serving as the U.S. consul-general there. Smitten with each other, the couple conducted their courtship on a four-month-long journey to New York City, where they were married in the St. Ambrose Chapel of the Cathedral Church of St. John the Divine on May 31, 1923. 
As an ambassador's wife, Virginia Weddell entertained a broad variety of people at the United States embassies in Madrid and Buenos Aires. Sir Samuel Hoare, the British ambassador to Spain, wrote of Virginia Weddell "...she, [is] the soul of human kindness, generous to an extreme to Spanish good works, and friendly alike to Americans, Spaniards, and English." Virginia Weddell played an important role in the American diplomatic mission through the parties and other social events she hosted. Often these events allowed diplomats to exchange information informally and to glean insights that could not be obtained during formal meetings that were governed by the strictures of protocol.
The utter misery endured by the Spanish people in the wake of the bitter civil war in the 1930s spurred Virginia Weddell to organize a massive relief campaign. After establishing the Fondo de Socorro Español de Mrs. Weddell (Mrs. Weddell's Spanish Relief Fund), she raffled off her car to initiate giving among her friends and acquaintances in Buenos Aries. Subsequently she was awarded "una condecoracion de manos del conde" by the Spanish Red Cross.
Mrs. Weddell's early efforts in Spain included procuring wheel chairs, pajamas, cigarettes, puzzles, games, pain-relieving drugs, and artificial limbs for Spanish soldiers in military hospitals. She opened an office in the embassy to direct the Red Cross relief efforts, and distributed bread baked in the embassy's kitchen among the poor.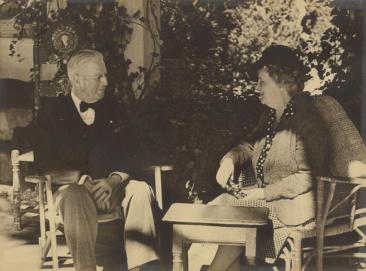 Mrs. Weddell's charitable activities had begun long before she assumed the role of diplomatic wife. But throughout her long career, her domestic efforts would be as impressive as those projects she undertook overseas. At Virginia House, the lovely setting she and her husband had created along the banks of the James River served as the stage for their diverse charitable and public service efforts. In addition to providing leadership in child welfare causes, sponsoring the Navy League during World War II, and making garden club speeches, Virginia Weddell also undertook projects that were forward-thinking for her day, such as her support of an ill-fated effort to build low-cost housing for Black Richmonders. But despite occasional setbacks, Virginia Weddell always sought to assist those in need.